"The lesser energy that I have got me off the continual hamster wheel of producing and showing like a madwomen! I crave quiet, calm, and peacefulness." - Rachelle Eason
Arachnoid Cyst - Bits of My Story
It's Arachnoid Cyst Awareness Day and I just wanted to pop in and give you a some highlights of my story.
It's actually a very long story that I intend to write down and share with those that are dealing with this chronic condition, but now is not the time.
I only wish to share a few bits to raise awareness, although it seems long too!
In General
Arachnoid cysts are typically non-cancerous tumors that are usually birth defects.

Arachnoid cysts are full of cerebral fluid that moves around as you move...think of squishing a water balloon in different places and the bulges that result.

Arachnoid cysts are often found incidentally when patients are tested because of head trauma. Some are asymptomatic and some people go their whole lives without knowing they have one. Some are discovered because of looking for answers to symptoms.

Arachnoid cysts can vary in size, put pressure on different parts of the brain, and can cause intense headaches, vertigo, seizures, strokes, etc.

Most people with scoliosis have an arachnoid cyst, although the reverse is untrue. Having an arachnoid cyst doesn't mean they have scoliosis too.

Many neurologists and neurosurgeons refuse to believe that ACs cause the symptoms the patients complain about even with MRI proof of the placement and pressure. Many patients suffer needlessly because of this.

Medication for migraines is usually given as treatment although rarely helps. There is no guarantee that surgery will relieve the symptoms of the arachnoid cyst.

There's a specific Facebook group for support of people with arachnoid cysts.
Specifically Me
My arachnoid cyst (AC) was discovered because of intense symptoms that manifested when I was 50. Traveling back from SC, without warning, incredible pain came over me and I screamed as if someone was stabbing me in my head. Chris was driving and of course, was completely startled at my outburst.

A neurologist discovered my AC with an MRI a few weeks later. My MRI also showed I had several transient ischemic attacks (mini-strokes) which I never realized.

My AC is on the large side, 4 cm, and is lodged right between the two lobes of my brain.

It took 18 months and four different specialists to get to my fabulous neurosurgeon in Winter Park who is an expert in treating arachnoid cysts.

Discussions with my neurosurgeon led to explanations for impairments I've had since childhood that I thought were weaknesses compared to "normal" kids... such as feeling of drowning during diving into pools and doing flip turns; feeling light headedness, tunnel vision, and moments of blacking out while running distance for tennis training, etc.

I was diagnosed with severe scoliosis as a teen. If my curve was straightened at that time, I would be 3 inches taller. At the end of my junior year of high school, I was a few weeks away from scoliosis surgery when I decided against it. (Different story. ☺️)

When I was an invited artist to Disney, I suffered incredible headaches due to the music and noise around my shop, passed out a couple of times, and spent part of almost every day with dizziness... all due to the arachnoid cyst.

When I was pregnant with each of our four children, i had tunnel vision and blacked out early in each pregnancy. Now I know that was due to my arachnoid cyst.

In June 2020, I had my first craniotomy to fenestrate my arachnoid cyst. I had instant relief! But... I had a critical response to the anesthesia, my blood pressure tanked, and when they pumped me with fluids, my lungs filled up. I went into respiratory arrest and ended up with pulmonary and cardiac problems that eventually went away with treatment by those specific specialists.

After 18 months of blissful head health that I don't ever remember feeling, my cyst returned with a vengeance. I could tell because when I bent over, the pressure in my head felt like I was underwater. I could actually feel and "hear" the fluid moving.

Without hesitation, I had my second brain surgery in August 2022. Very aware of my issue with anesthesia the last time, my anesthesiologist was phenomenal and prevented that from reoccurring. Although the trauma of surgery triggered a secondary issue... occipital neuralgia on the left part of my head. Now after an outpatient procedure and six months recovery from brain, surgery, those symptoms are decreasing.

After both surgeries, I have had cognitive impairments. After the first surgery, I couldn't read a book for about 18 months. After this second surgery, reading anything even Facebook posts, is hard. I can't accomplish multi-step processes in order, and producing my live or recorded instructional classes online is close to impossible. It's taking me days to write this.

In both surgeries, my doctor was able to fenestrate the cyst and remove 95% of the membrane of it. The parts that have their tentacles in the lobes of my brain cannot be removed without lasting damage.

Will mine grow back? Most likely since it already did once. Will I opt for surgery again? Yes, in a heartbeat. The pain is too intense not to.

My doctor says that the hope is scar tissue builds up with surgery and eventually the cyst can't grow through the scar tissue.
It's crazy but there are people in the Facebook group that have had this surgery 19 times or more. There are a lot of children diagnosed with it now and parents have to decide if having surgery is the right choice. Just the words "brain surgery" are scary when making the decision for yourself. I can't imagine having to make that decision for one of my children.
That is a whole lot of info, but it is a whole big thing!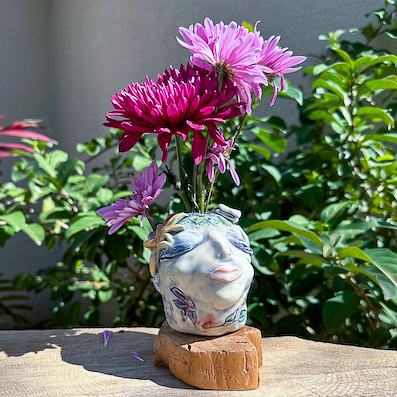 How I Feel
I am so very grateful for all of this! The diagnosis explained so much that I thought made me weaker than others. My doctor and his team are amazing and addressed my condition head on (pun intended😂) while letting the choices rest with my husband and me.
My life has changed tremendously and I know for the better. The lesser energy that I have got me off the continual hamster wheel of producing and showing like a madwomen! I crave quiet, calm, and peacefulness. There's no room for things that disturb that and I make a conscious effort to keep stress minimal. I say "no" a lot!
My Art
My art has been influenced by my arachnoid cyst, both literally and figuratively.
About 6 weeks post this last surgery, I started a pottery collection of slab built textured planters that I called Reclaim, Recover, Renew which evolved into a second collection called Recover, Renewal, Refresh. The process of building with textured slabs, pressing them together to form a vessel, and the finished pieces intended to hold plants, symbolize the overlapping of symptoms from childhood and adult hood, finding a way to bring them together into a story that overcomes the challenges and creates space for new growth.
Then, dealing with the occipital neuralgia, sparked a person piece for me. The head as pictured is the visual manifestation of what is going on in my own head. The left side, the analytical critical thinking side, features the aspects that are impaired...reading, calculating, processing. The right side, the creative side, features what seems to be in overdrive... pottery, creating, dreaming.
Most of all, it shows I am grateful.
Thank you!
So...if you have read this far, I commend you! Thank you! I hope on this Arachnoid Cyst Awareness Day, you have learned a bit about an invisible illness that is definitely not invisible to the person saddled with it.
A bit extra...
You can click the button below to see my arachnoid cyst head sculpture as an incense burner. 🥰
Mahalo!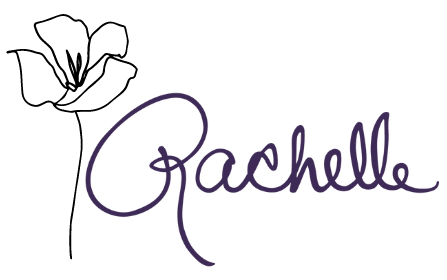 ---
Browse the main online shop... RachelleEason.com/pottery